Security upgrade
We've just upgraded the Wibsite to the latest (and greatest, and ratest, and … I'll stop) version of WordPress. A security problem in the old version has caused quite a bit of consternation of the the last few days and an upgrade was definitely needed. It looks like it's worked OK, but if you notice anything strange please let us know.
I've also had a good prune of what looked like spammy user accounts. If you suddently can;t log in it's because, basically, you look like a reconstituted meat product. But take heart! A quick email to the Wibsite administrators will set you back on the slightly wonky and narrow.
And as if that's not enough, there's been LOADS of work put into the statistics for each blog. The full details are on my website here, but here are some screenshots of what you have Right Now waiting for you.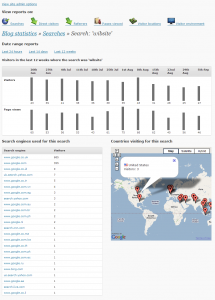 Page not found
Sorry, that page was not found. It was here last time I looked, I'm sure of it. Oh well, you can try the home page if you want.